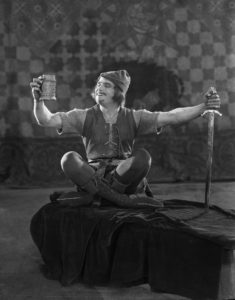 Les Sorciers Perdus perform Mark's new score for "Robin Hood," (1922), starring Douglas Fairbanks, at The Grand in Ellsworth.  There is one screening only, so reserve your tickets early!
Mark's new score uses contemporary jazz, folk and classical styles to portray in music the epic visual scope of this film – one of the highest costing films to produce in the 1920's, at roughly one million dollars! Considered director Allan Dwan's masterpiece, and recently restored, Robin Hood has never looked better on the big screen, and with a 100% rating on Rotten Tomatoes, this film will not disappoint!
Featuring Mark Tipton on Trumpet & Keyboard, Ryan Blotnick on Guitar, Tyler Heydolph on Bass, and Beau Lisy on Drums & Percussion.
[Date soon-to-be-confirmed.]