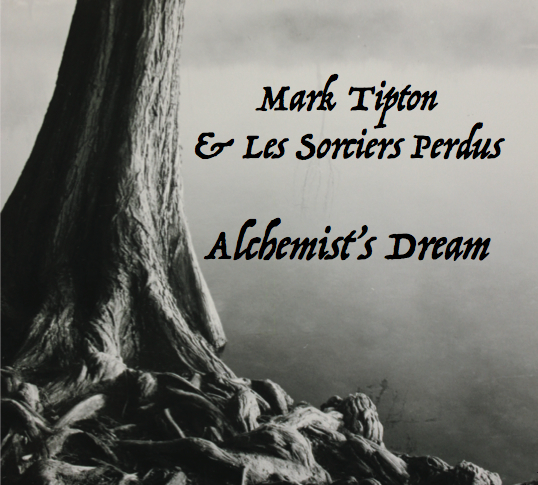 Music Projects
"Fog of Ancient Memory" from the album "Alchemist's Dream" (2017):
Les Sorciers Perdus (LSP):
Les Sorciers Perdus, ("The Lost Wizards"), is a pan-genre musical ensemble founded in 2009 that includes: trumpeter/composer Mark Tipton, guitarist Ryan Blotnick, bassist Tyler Heydolph, and percussionist Beau Lisy. LSP frequently includes guest performers, including: guitarist Don Pride, percussionist Peter McLaughlin, cellist Benjamin Noyes, saxophonist Tracy McMullen, pianist Peter Dugas, speaker Alan Brooks, and flautist Carl Dimow.
LSP released their debut CD, "Alchemist's Dream" in March of 2017.  The album is dedicated to the memory of the group's founding bassist, the late Chris Sprague, and was mastered by Bob Ludwig at Gateway Mastering.  LSP presents public performances of compositions by Mark Tipton, including original silent film scores, jazz, contemporary chamber music, performance art installations, and arrangements of World Folk Music. LSP also presents educational workshops in schools and through all-ages community forums.
Les Sorciers Perdus have performed at: SPACE Gallery, The Colonial Theatre, Studzinski Recital Hall at Bowdoin College, Given Auditorium at Colby College, Waterville Opera House, Mayo Street Arts, One Longfellow Square, the Saco River Theatre, Blue, Eastport Arts Center, The Apohadion Theatre, First Parish and Woodford's Church in Portland, and at private venues throughout New England. Highlights in the ensemble's 2017 schedule include: "After You'd Gone: Four Alan Brooks Poems" at the 9th Annual Back Cove Contemporary Music Festival, "Sunrise" (silent film score for F. W. Murnau's 1927 silent drama) at the 20th Annual Maine International Film Festival, a summer jazz tour throughout Maine, and additional live silent film scores at several vintage movie theaters. LSP have been featured on MPBN radio and WCSH-6's "Area Code 207" television show.
People often ask about the name – "What does it mean?" / "Where does it come from?"  Mark's response is: "The name 'Les Sorciers Perdus' ("The Lost Wizards") was thought up by my Parisian friend, Pauline Bonnet, in 2009. I was looking for a name that was evocative of creative souls searching for truth and beauty throughout time, with a feeling of 'the old world meets the new.'"
The Mark Tipton Quartet/Quintet (MTQ):
The Mark Tipton Quartet/Quintet is a rotating personnel ensemble that performs originally-composed, freely-improvised, and classic jazz music in performance venues and at private functions throughout the Northeast and beyond.  Recent performances have highlighted the works of the following legendary musicians/composers: Woody Shaw, Mary Lou Williams, Charlie Parker, Jacques Brel, Rahsaan Roland Kirk, Elmer Bernstein, Bobby "Blue" Bland, Astor Piazzolla, Jule Styne, Joe Raposo, Charles Mingus, and Nina Simone.  The Mark Tipton Quartet also performs original arrangements/re-harmonizations of World Folk Music, including traditional North and South American, Irish, Icelandic, Indian, Armenian, Russian, Japanese, French, Austrian, and African melodies. 
Since 2002 the Mark Tipton Quartet/Quintet has performed at: Boothbay Opera House (ME), First Church in Belfast (ME), Grand Lake Stream Folk Art Festival (ME), Mayo Street Arts (ME), One Longfellow Square (ME), St. Lawrence Arts Center (ME), Banjo Jim's (NYC), the Cobscook Community Learning Center (ME), and at private venues throughout Maine, New Hampshire, New York, Arizona, and California.