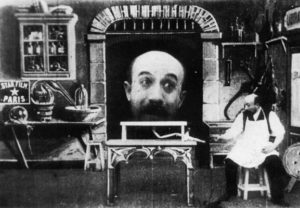 Les Sorciers Perdus present a fun-filled evening of short silent film comedies sure to inspire belly-laughs from even the most stoic among us!  Feel your troubles (and the winter blues!) melt away as Les Sorciers Perdus perform Mark's original music to favorites by such masters as Harold Lloyd, Georges Melies, Charley Bowers, and more!
Mark Tipton – trumpet & keyboard, Ryan Blotnick – guitar, Tyler Heydolph – bass, & Beau Lisy – drums
Details: 182 Ridge Road, Bowdoinham, Maine; Potluck @ 6:30pm & Music/Films @ 7:30pm; Suggested donation is $10/person.